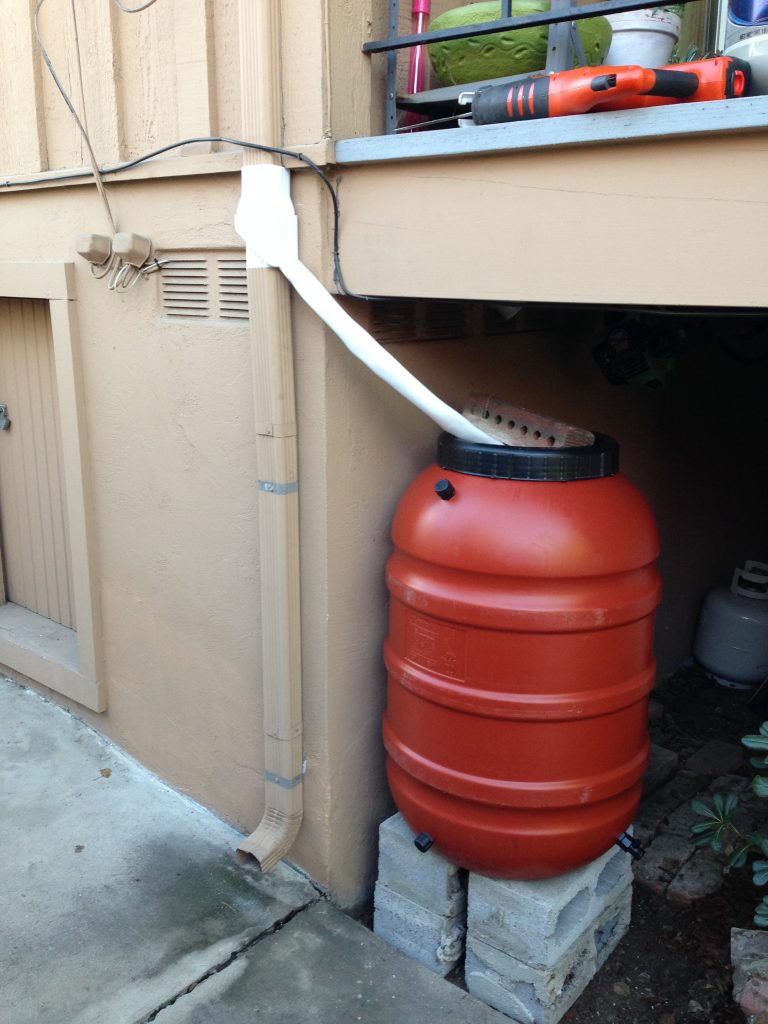 I mentioned a while back in this post about the Water Smart San Diego Program that I was thinking of installing rain barrels. My dad came into town for less than 24 hours in December and while he was visiting he helped me set up my rain barrels. I ordered them from a site called hayneedle. I realize that I could have made my own, but there is a program offering $75 for each rain barrel that is installed and I needed a receipt to get the refund. I really like that they are up-cycled from previously used food shipping containers. They are incredibly strong and decently made, but not the nicest to look at. I think if I were putting them in an obvious location I would have sprung for something nicer.
After they arrived I realized that I needed to alter the spouts as well. The way this works is that most of the water goes into the barrel (a little goes through), but once the barrel is full, it mostly keeps going down the spout. I researched a few and for my needs (having the barrel off to the side) and the price, I opted for the Mystic Rainwater Collection System
.
I started by leveling the ground where the barrels would sit. I didn't want to mess with them tipping. Then I placed two cinder blocks under each barrel that I already own. The website with the refund requires that the barrels be at least 6″ off the ground. I am assuming this is to make it easier to distribute the water later without a pump.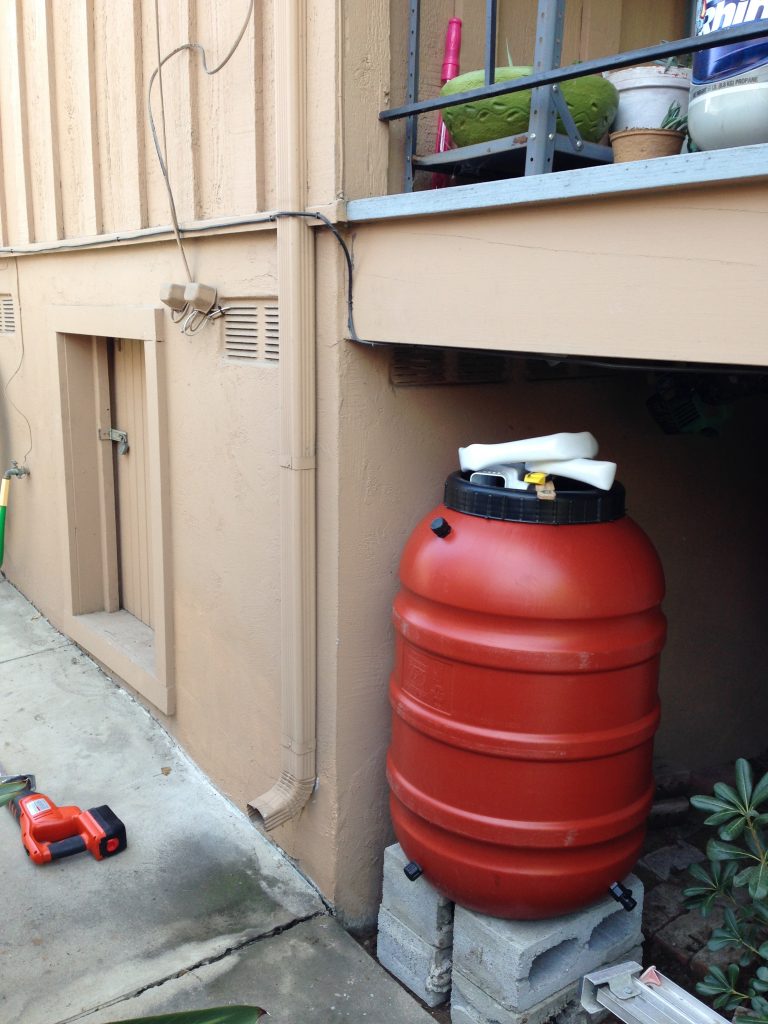 Next we measured how much of the downspout to cut off and we used a hack saw to cut it. I ended up slicing my hand on the cut downspout so please watch out. It can be really sharp.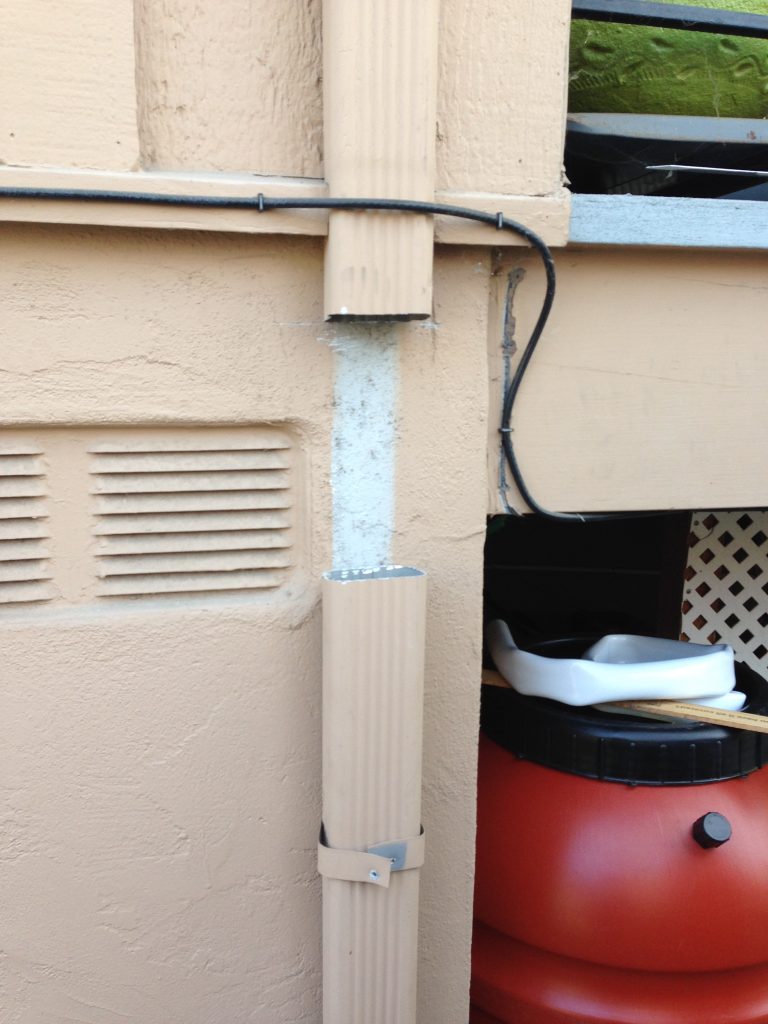 Attaching the Rainwater collection system was simple enough, but my downspouts were old and they needed a little bending and finessing to get them over the plastic. Then we slipped the two parts together and tightened up the screws that held the downspout in place.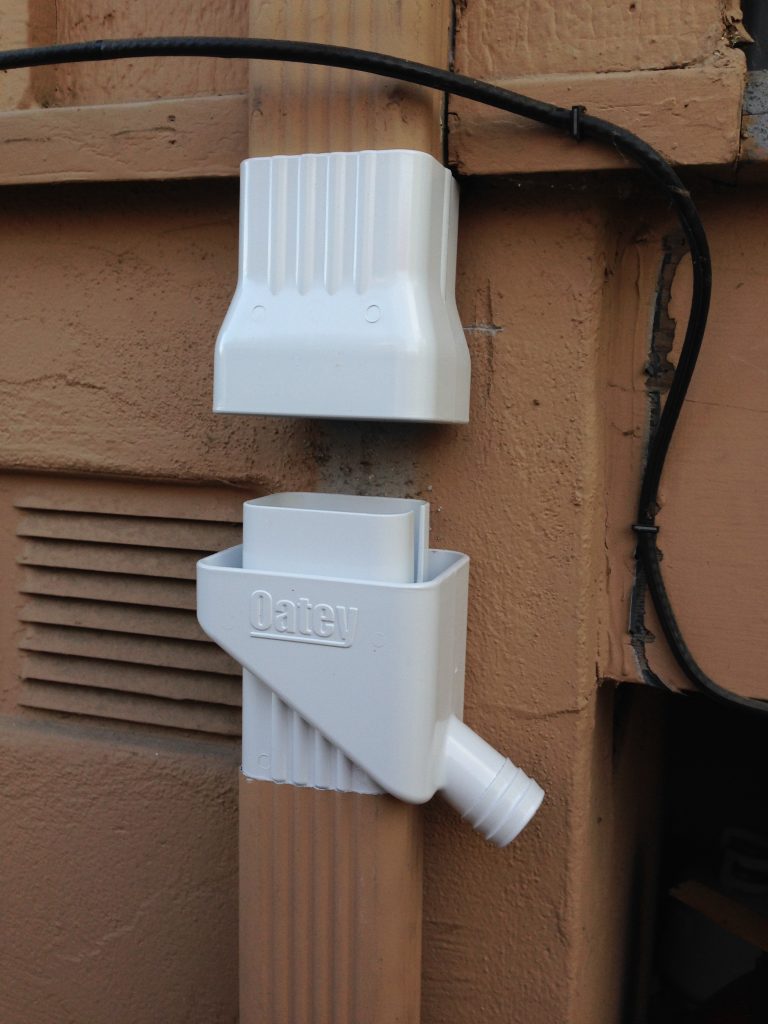 I am happy to report that it is working well and after one very small rain and one big one I filled up the entire barrel. I installed two on the other end of the house and nearly both of those are filled as well. I'm hoping to get another one to attach the the one shown in the picture.