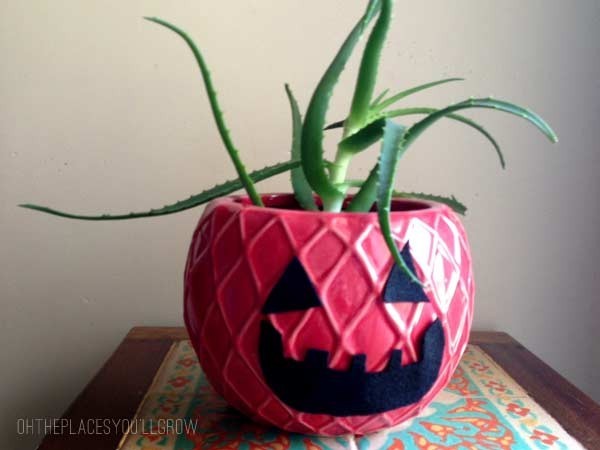 I previously blogged about this funky planter a few months ago after I scored it from Target. At that time I was thinking summer thoughts and not of Halloween decor.
While I like to get the house decorated for holidays, I can't bring myself to spend a lot of cash doing it. This results in expressed creativity, but often only when the project is quite easy. This my friends, is one of those projects. While this planter looks kind of like a pumpkin, really I think that this could work for just about any potted plant that you have in your house.
1. Pick pot that you want to convert into pumpkin decor.
2. Cut out the eyes, nose, mouth, etc. for your pumpkin. I used black felt that I had for a different project.
3. Using double sided tape, adhere it to the planter… and that is it!
This planter resides in my entry and you can see it as you just enter the house. Here are two other pics that are in the same area, decorated with mostly found materials. The bats were drawn with pencil on black poster board and attached using blue painters tape. I am contemplating using black felt for these too.