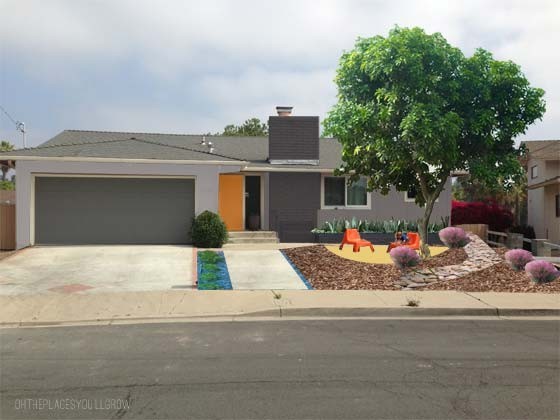 Two months ago when I was extremely busy at work, I had the bright idea of spending a few hours putting together this image using various things from the internet. You will notice that this includes new paint on the house as well as a stained fireplace.
We plan on putting a small patio in the front yard. Initially it was going to be a decomoposed granite patio, but after going to the Estancia Hotel and seeing their beautiful gardens, I think that I would like it to be a flagstone patio with some ground cover in between.
The plant selection isn't really fleshed out in this rendering, but we mostly want to use drought tolerant plants and succulents. To use either we really need to bring in new soil as ours is clay and has horrible drainage.
The walk way that we want to add has pavers here, but after talking to my dad he changed our mind on that. He convinced me to have a flat surface for the front walk way of concrete. That makes it easier for people not to trip. This is especially important for older people. So we are going to have a concrete walkway (the same width) to match the other concrete path.
We also need to figure out what to do with the planter attached to the house. I thought we might be able to stucco it, but I don't know if that is a good solution. That will be a phase 2 item, but it still needs consideration.